The stackup that I did inside the enclosure was fairly crude. The GPS receiver and its attached antenna are at the "top" of the stack, and stuck to the inside uppper surface of the enclosure using double-sticky foam tape. Immediately below that, the dual-band Wi-Fi board is component-side down. I'd removed both the SMA-RP female and the USB male board connectors to reduce height and length. The bottom of the stack is the USB hub, again with USB female sockets removed and component side down as there's two electrolytic caps that stick up 8 mm or so.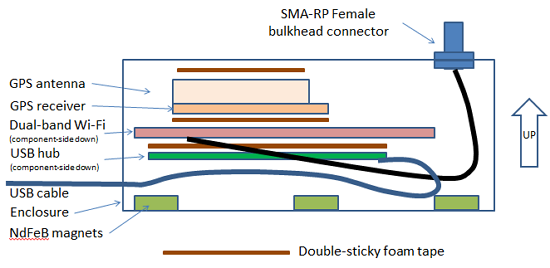 I've used double-sticky foam tape for things like this over the years, and as long as it doesn't absorb moisture, it's quite RF-transparent and the antenna has no issues.
The Wi-Fi board has a ground-plane on top and bottom, but I wanted to reduce to a minimum any local fields from the components, so the board goes in component-side down to isolate it (maybe a bit) from the GPS antenna.
The GPS receiver itself is completely encased in a shield, and is slightly larger than the antenna, so there may be some added attenuation of spurious emissions from the Wi-Fi getting into the GPS.
The USB hub, at the very "bottom", also has a top/bottom ground plane.
The Wi-Fi sniffing performance is as good as my permanent mobile setup, and the GPS gets excellent PDOP (<2.0) when there's a decent field of view of the sky.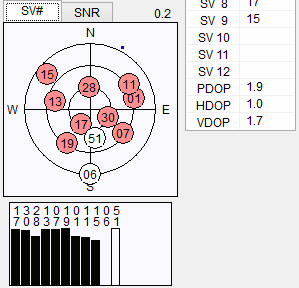 The apps used to grab the GPS data is 4river's NMEA Monitor, a fine little program.