A Touch of New Orleans
This was way too fast a trip, but ya gotta take what you can get. We had a problem with some flight hardware under test at a company in Atlanta, but due to the Olympics, I couldn't get a flight direct to Atlanta, and there wasn't a hotel room for 200 miles around Atlanta.
All I have are two postcards, since I didn't bring a camera. But I stayed near the airport and caught a ride onto Bourbon street from the driver at the hotel.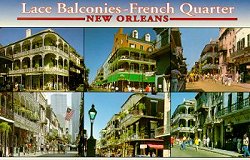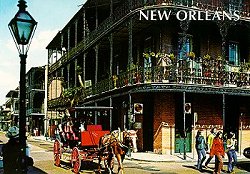 And then, at 11:30 pm, it was time to go back to the hotel, get four hours of sleep, get back up and get to the airport for a 6:20 am flight to Atlanta... But I had a lot of fun!


Back to Exploring!