Friday the 13th, 2030 hours, Atlanta, Georgia
Land at massive and disturbingly poorly organized Hartsfield Interstellar Spaceport, Atlanta's major airport.
40 minutes later, finally meet up with Caroline, friend flying in from LA
Rent car
Bail from airport
Auto-pilot into downtown Atlanta
Find hotel
Scram up to Buckhead, a major funzone for Atlantans on a Friday night
Drop into Tu-Tu-Fruity (or something like that), place serves interesting appetizers and drinks, order up a pile of stuff: Cajun Chicken Egg Rolls, Spicy Steak Strips, Smoked Chicken pizza, etc. Food is good, but mixed drinks are pretty watered down.
Jump ship around 2330 and cruise the neighborhood looking for new experiences. Fun playing the tourist.
Swim into Lulu's Bait Shop, a divey bar that caters to the college crowd and stringers. Caroline orders us a drink that arrives in a big fishbowl, the liquid contents colored blue, and with the tail end of a foot-long rainbowed lizard (plastic) sticking out of the bowl. Oh, and two-foot-long straws. Costs 20 dead presidents. About 50-50 fruit punch and grain alcohol. Starts out smooth, ends smooth. Don't remember much after that except that we had fun!
---
Saturday, 14 December, 0930 hours, downtown Atlanta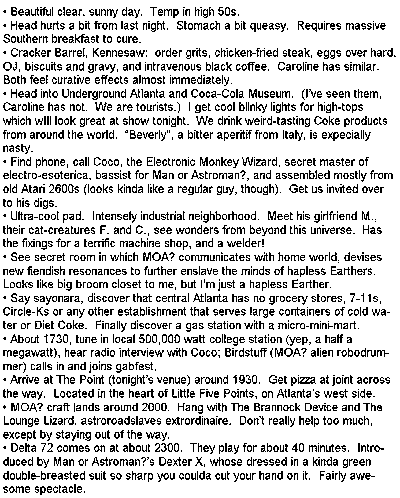 ---
Sunday, 15 December, 0000 hours, Little Five Points, Atlanta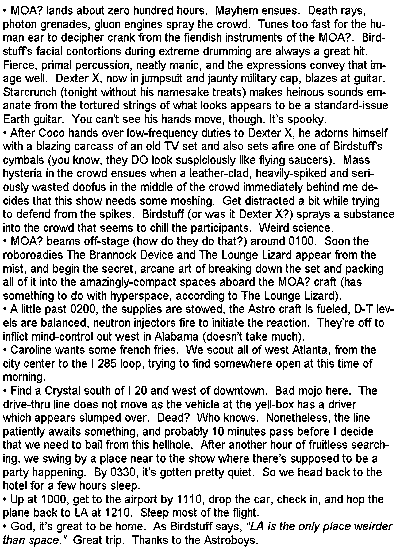 Back to Exploring!