MASTR II to TNC 2 Connection Chart
Jon Adams NW6H / Greg Noneman WB6ZSU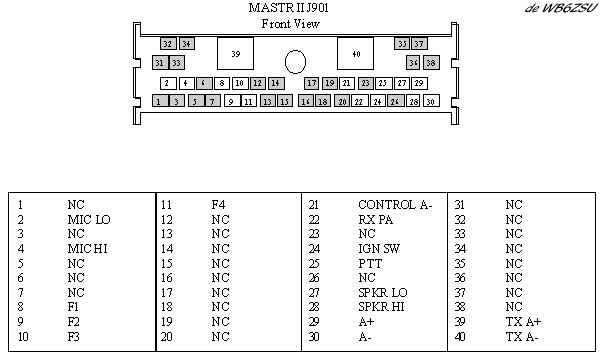 MASTR II

TNC 2

Pin #

Color

Pin Function

Connect to

Pin #

Function

2
shield
Mic -
2
Return
4
brown
Mic +
1
Audio Out
8
F1 Select
GND
19
Preamp Out
4
Audio In
21
Cont A-
GND
24
red/white
+12V
25
PTT
3
PTT
27
brown
Spkr Lo
*
28
green
Spkr Hi
*
29
yellow
A+
+12V
30
black
A-
GND
39
orange
A+
+12V
40
yellow
A-
GND
* Connect a 5W, 8ohm resistor between these two pins to provide a load to the MASTRII audio amplifier. Can also take this opportunity to add a speaker jack to cable end so that you can hear the audio as required.
The MASTR II 35W version has a recurrent problem (at least the dozen or so I have played with) with the transmitter power control hybrid. Generally, the hybrid appears to fail and the output power goes to zero because the hybrid shuts off the PA. The suspicion is that the hybrid detects VSWR and thinks that something's wrong and so shuts down the PA to protect it. We've seen them come back to live spontaneously, so it's not the most reliable thing.
The other problems we've noted with the MASTR II include failures of the transmitter multiplier stages and one time a dead receiver.
One other thing - we use the VHF-High band high-end MASTR IIs for amateur service. These units come from the factory set up for running from about 150 - 170MHz. At a minimum, the tanks in the transmitter stages need to be padded in order to get the radio to tune properly. Greg has actually gone in and redone the coils per GE specification and that works very well. I will publish the mods when I can find them.